Secret Ingredient is a full service consulting company for the restaurant, hospitality & food industry. We specialize in providing solutions for new and existing restaurants, while extending our advisory services towards FMCG, hotels, malls & schools. Secret Ingredient's perspective comes from years of hands on experience in the F&B industry. This includes operating restaurants and delivery outlets all over India, as well as advising some of the biggest names in the food industry. This experience gives us a unique edge with our clients.
If it has to do with food, it's in our veins.
Sid Mathur
Founder / Director
Advisory & Strategy
He trained at some of the best spots on Europe & New York's thriving culinary scene from the only perspective that matters in a good restaurant – the guest's. Rather than being behind the scenes or in the kitchen, Sid grew up experiencing great food and learning the nuances of hospitality from a ringside seat, which armed him with a fresh and honest take on F&B and made him into the perfect host he is today.
That keen love for food began at a young age thanks to well-travelled parents and having spent his childhood in London. This gave him huge exposure to Michelin star restaurants, various kinds of cuisines and also developed his palate. It's what gives Sid his edge in the food industry with a world vision and a very indigenous approach to hospitality.
Back home, he studied at The British School, New Delhi and later St. Stephen's College, Delhi University. While food was always his first love, it wasn't yet time to make it his career. So he moved back to London, and continued eating his way around the world while spending 9 years in Private Banking & Equity Trading with Citi Private Bank.
Sid returned to India in 2009 and met up with an old friend Riyaaz, who asked him to partner with him and join Impresario Entertainment & Hospitality as a Director & Head of Food for the group, which today has over 50 restaurants across 15 cities. Some of these include multi award winning concepts like Social & Smoke House Deli.
Sid founded Secret Ingredient in 2010, where they assisted clients on menus & recipe development. Seeing a gap in food advisory services, Sid enhanced the services, and today they advise some of the biggest & brightest in the food world. Sid is also the Founder & Director for Khoya Mithai, India's first Luxury Mithai service, and Co-Founder of Asian Hawkers Market, which has seen 6 editions in Select Citywalk.
Kula Naidu
Director
Conceptualization & Branding
For over a decade in the food & beverage space, Kula has been carefully expanding and building on his innate understanding of food & branding. Born and raised in Malaysia and being of South Indian decent, he has been immersed in international cultures and flavours since birth, with a keen interest on Asian food.
Kula moved back to New Delhi in 2007 and delved into food. These years of experimentation during the industries tumultuous phase, gave Kula the wealth of experience and knowledge from a practical first hand perspective. This has proven essential and of immeasurable value to constructing his holistic perspective of the industry that has allowed him to create the long standing ventures he maintains today.
FoodCraft launched in May 2012 with the brands patriarch Asian Haus. The company has since grown, operating 7 units with 5 different brands. Sushi Haus, Dilli Haus, Amma's Haus and finally, FoodCraft Catering - the companies catering arm. FoodCraft is credited with revolutionizing packaging and a pioneer in the food delivery space.
Having been in the business and understanding the volatility of the food & beverage space first hand, Kula now spends his time conceptualizing and providing end to end solutions as a food consultant.
HITESH ARORA
VP Operations
Head of Projects
With an enriched operations experience spanning over a decade, Hitesh started his career in 2010. A post-graduate in Hotel Management and Marketing, Hitesh got the best of all the possible worlds by joining Asian Haus - the pioneer in the food delivery space.
In the process of soaking up the training during the initial years, Hitesh has gained cross functional knowledge across all departments and formats of the trade, handling a team of over 130 employees, while expanding the company to new locations and the creation of new brands.
He then followed his passion of owning and running his own café for a couple of years. He soon realized that he is more suited to being part of a larger organization, rather than another entrepreneur in the F&B space.
He joined Cremica Foods and headed the launch and growth of their desserts and FMCG arm, where they created bakery stores and numerous frozen dessert consumer products.
Hitesh is extremely proficient in front of the house operations, financial planning, vendor management and handling of personnel, whether it is hiring, training or development.
Karan Batra
Senior Consultant
Bar & Beverage Lead
A graduate from the Blue Mountains Hotel School, Australia, Karan knows what it takes to build a strong and compelling F&B brand. With over 14 years of experience, in establishments such as Blue Frog, and CAARA and as Area operations manager of Pass Code Hospitality which runs - Jamun, PCO, Pings and Saz. Karan is a front-runner when it comes to streamlining operations.
Most recently, during the lockdown, he decided to brush the dust off his dream of becoming a Home Chef to launch Mattancherry Junction, a cloud kitchen serving Malayali soul food.
Today, Karan focuses on furthering his passion in the beverage department. With specialized knowledge in mood cocktails and bar design, he spends his day creating, curating and defining unique conceptual bar solutions.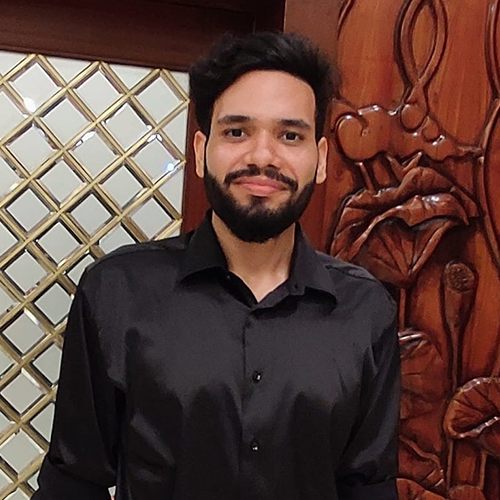 MANTHAN DATTA
Culinary Specialist
Cuisine & Research
Youngest member of the team, Manthan, has been experimenting with food since his childhood, which led him to pursue a Culinary Arts Graduate course from WGSHA, Manipal - one of the country's leading institutions. During his journey at WGSHA, he was fortunate to be a part of the kitchen team at Taj Mahal & The Leela Palace, New Delhi.
He is a certified Level 1 Sommelier from International Sommelier Guild and Level 2 Diploma holder in food preparation from City & Guild, UK. He was 2nd runner up of IOCC-2020 chef competition organized by CAI, Hyderabad.
Manthan is enthusiastic, energetic and continues to pursue his dream of exploring different cuisines and cultures.